Product Description
Hang Leaves for Wedding Decor

Ivy represents love, faithful marriage, and is a common decorative element in weddings. Fake vines are suitable for making various wedding wall decorations and bridal wreaths. Artificial ivy garland is soft and beautiful, which can meet your various needs.

Artificia Ivy for Birthday Wall Decor

Ivy symbolizes joy and vitality and immortal youth. Fake ivy is very suitable for all kinds of birthday party, anniversary celebration decoration and all kinds of holiday party decorations.

Ivy for Outdoor Plants Decor

Artificial ivy garland does not need you to spend a lot of time on daily care, and fake ivy leaves can last longer than natrul ivy, and it is not easy to be damaged, can withstand the sun and rain. Suitable for decorating outdoor garden fences, railings, arches, benches.
Ivy for Indoor Party Table Decor

Ivy represents a loyal and long-lasting friendship. Vines for room are suitable for indoor decoration of friends gatherings and various anniversaries.

Simple maintenance artificial hanging plants

The green vines is evergreen, and the silk ivy leaves are dense and will not easily be damaged or faded. The artificial vines don't need to be cleaned daily, and the maintenance is simple. Fake ivy has a variety of shapes and can be twisted and hung, suitable for decoration in different places in the house.

Size of Fake Ivy

There are 24 fake vines, each is 78.7 inches long and with 80 leaves. The hanging leaves are made of silk and the stems are made of plastic.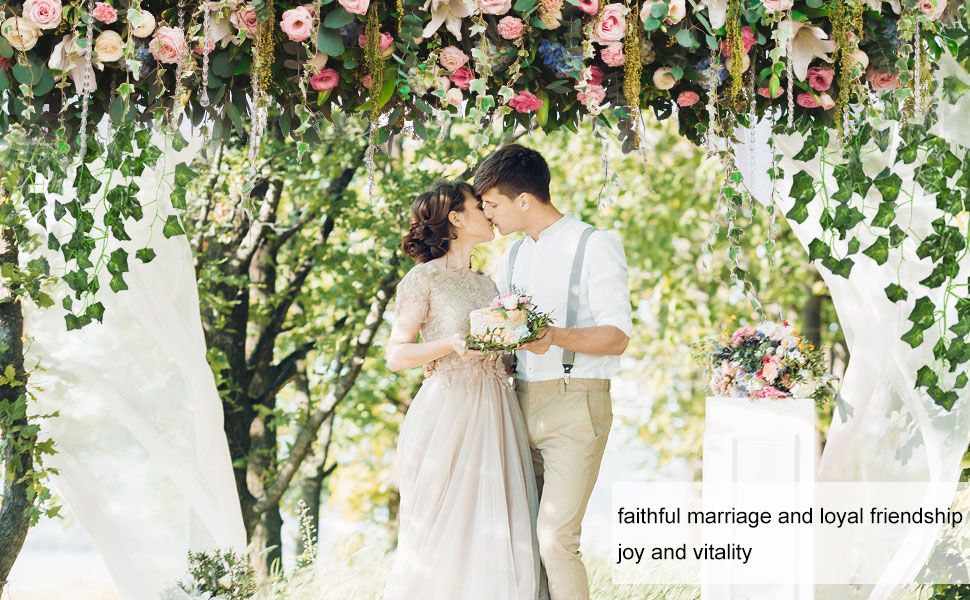 Good wedding decoration elements, making your wedding romantic and love forever.
Tips:
Due to the raw material is plastic, our 24 fake vines may have some odor after unpacking, but this does not affect your safety. If you think the odor of our product is too heavy, you can choose the following ways to deal with it:
1. Hang the fake ivy in a cool and ventilated place for a few days, wait for the smell to dissipate, pay attention to avoid sun exposure.
2. Wash the vines in warm water, then air dry or blow-dry.
3. If you have sensitive skin or sensitive about the various odors, we suggest that you do a skin test before hanging the vines.If our product does not cause discomfort to you, the product can be hung directly.
Detail
Size of ivy vines: 78.7 inches / 2 meters each vine leaf garland, with two sizes of artificial ivy leaves. Large hanging leaves: about 4.5 cm * 4.5 cm / 1.77 inches * 1.77 inches, small hanging leaves: about 3.5 cm * 3.5 cm / 1.37 "* 1.37"

Material of green vines: The faux ivy leaves are made of silk and the stems are made of plastic. There are 24 strands such artificial ivy vines.

Maintenance of fake vines:The artificial fake ivy garland is evergreen, and the silk hanging leaves are dense and will not easily be damaged or faded. The fake hanging leaves don't need to be cleaned daily.

Uses of ivy garlands:Artificial hanging plants with LED strip lights can be used for wedding wall decor, artificial vines for bedrooms, wall vines for room decor, fake leaves for gardens greenery backdrop, party, swing sets, enchanted forest decorations, easy to install and disassemble.

Note: The artificial ivy vine is dyed and processed. It is normal for fake leaves to smell. Please put fake leaves in a ventilated environment after receiving them, and the smell will quickly dissipate.