98%
of our customers enjoyed their order.
Last chance: only 50 left at this price!
Sale Ends On: 

April 18th

, 2022
SLEEP WATCHING YOUR FAVORITE SHOWS!
Grab a tasty snack, snuggle up in a blanket with your loved ones and make movie nights amazing again, thanks to your new mini HDMI portable projector! Watch your favorite show, movie, series or play your latest game on a screen as big as your TV!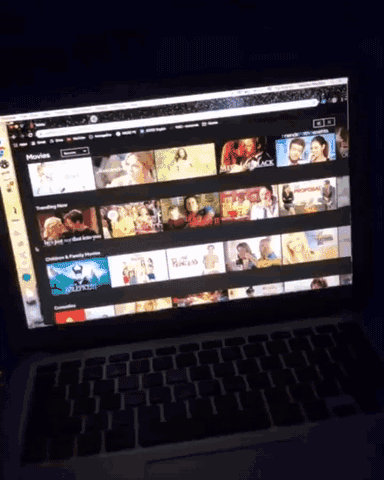 CONNECTS TO ALL YOUR DEVICES!
The Porto Projector is not only the best iPhone projector, but it can also connect to every device, from iPad's, iMac's, Android devices, to laptops, PCs, game consoles, Roku, Amazon Fire sticks, TVs, and many more!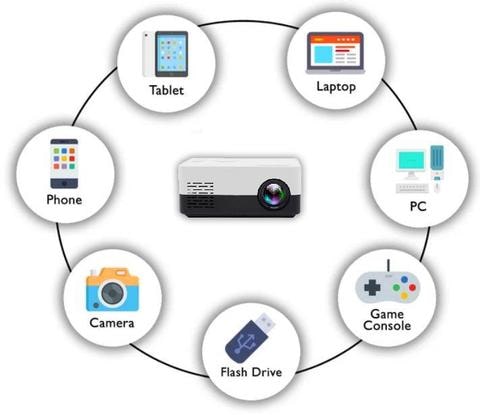 Our mini movie projector requires an HDMI cable, but you can add an HDMI cable to your order once you click add to cart.
WATCH YOUR SHOWS IN THE SAME QUALITY AS TV!
Experience a mini projector under $100 with high-end LED display quality (1080p). There is no loss in quality for up to 10m. You can use your mini projector both inside and outside! You can adjust the display from 20" to 120" (50.8cm to 304.8cm).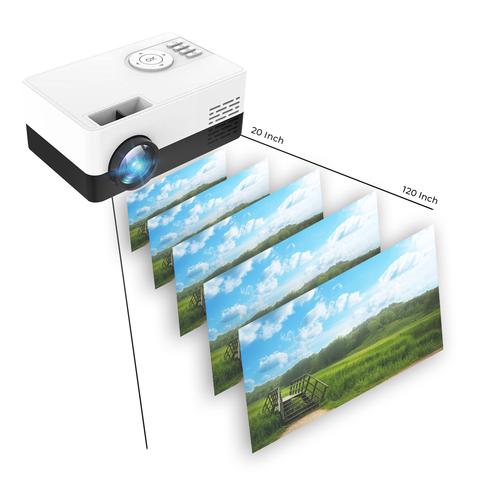 FEATURES

Bright and Vibrant images: accurate colors and rich contrast with deep blacks and bright whites that make everything really pop, even in rooms which aren't totally black.

Compact & Portable: 5 x 3.4 x 1.8 inches and 6oz (12.7 x 8.6 x 4.6 cm and 170g ). The perfect grab-and-go mini projector.


Projection Distance: 0.8 - 2 m (for best performance)

NeverDieLamp: 30,000 hours of lamp life

Built-in-Speaker also features a special port to use your own external speaker

Works with any device: HDMI, USB, AV cord, 3.5mm jack, Micro SD and TF card connections.

Outdoor use: your mini movie projector can be powered from just a power bank. Perfect for camping, business meeting and travels

Harmless LED light: The American Bridgelux LED light is harmless for the eye and has a very small power consumption.
FREQUENTLY ASKED QUESTIONS
Q: Can I connect my phone? 
A: Yes, the Porto Projector is the mini projector that adapted for iPhones and all iOS devices, as well as Androids. You will need an HDMI cable to use your mini movie projector, and you can easily add one from our website to your order once you complete your purchase!
Q: Can I watch Netflix/YouTube? 
A: Yes, when connected to your laptop or any other device, your mini projector mirrors exactly what's on the screen, without delay.
Q: Does it support Bluetooth? 
A: Unfortunately not, however, this mini projector compatible with iPhone can connect to all devices including phones, laptops, game consoles, headphones, and much more!
Q: How big is it?
A: The mini projector is very small and compact and will easily fit in your bag and backpack to carry everywhere with you.
Q: Can I choose my color?
A: Yes, the Porto Projector comes in different colors. Choose a white, blue, yellow or a pink projector and match it with your home decor. Want a pink projector? We've got you covered.
Q: Is it easy to use?
A: Our mini movie projector for iPhone and all other devices is very user-friendly and so easy to use! Simply plug and connect your device, and you're ready to go! The Porto Projector can be operated with a single hand and comes with a remote control.
Q: Does it have a speaker?
A: The mini projector has a built-in speaker and you can also connect an external speaker or plug-in your headphones!
Q: Does it run on battery or have to be plugged in?
A: It doesn't support batteries. Your projector comes with a 4m long power adaptor and you can also use a power bank to connect it.
Q:Is the projector noisy?
A: No, the Porto Projector is only 15 decibels loud, which is quieter than a whisper. With this mini projector under 100 dollars, you'll always stay immersed in your movie or show, never bothered by its sound.
Q: Is there a risk of overheating?
A: No, you will never have to worry about your mini movie projector overheating, as the Porto Projector's advanced cooling system will do the work for you, staying cool for hours.
YOUR PACKAGE INCLUDES
1x The Original Porto Projector,
1x Power Adapter,
1x RCA cable (HDMI cable is an optional extra),
1x Remote Control,
1x User Manual.